Main content
Programming at CHC: Wildlife, Wood Heat, and Warblers
Posted Monday, February 14, 2022
— Connections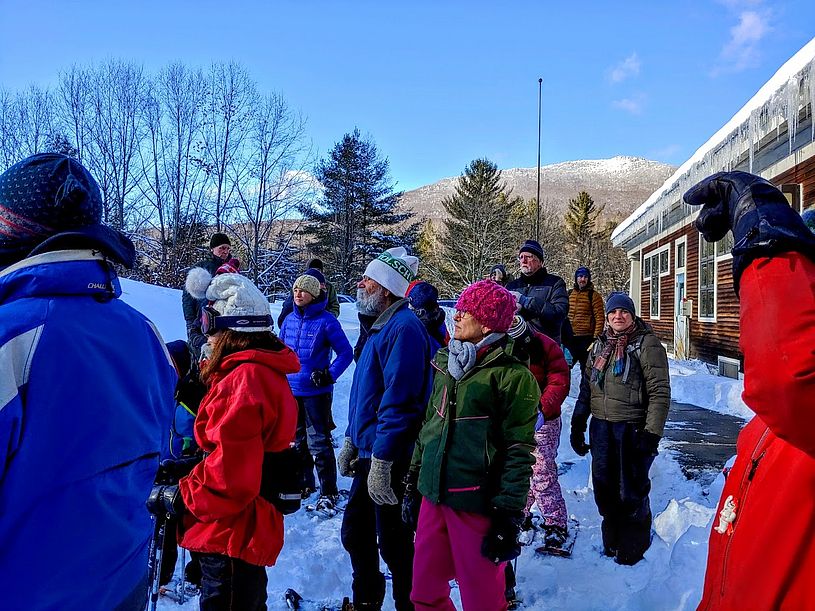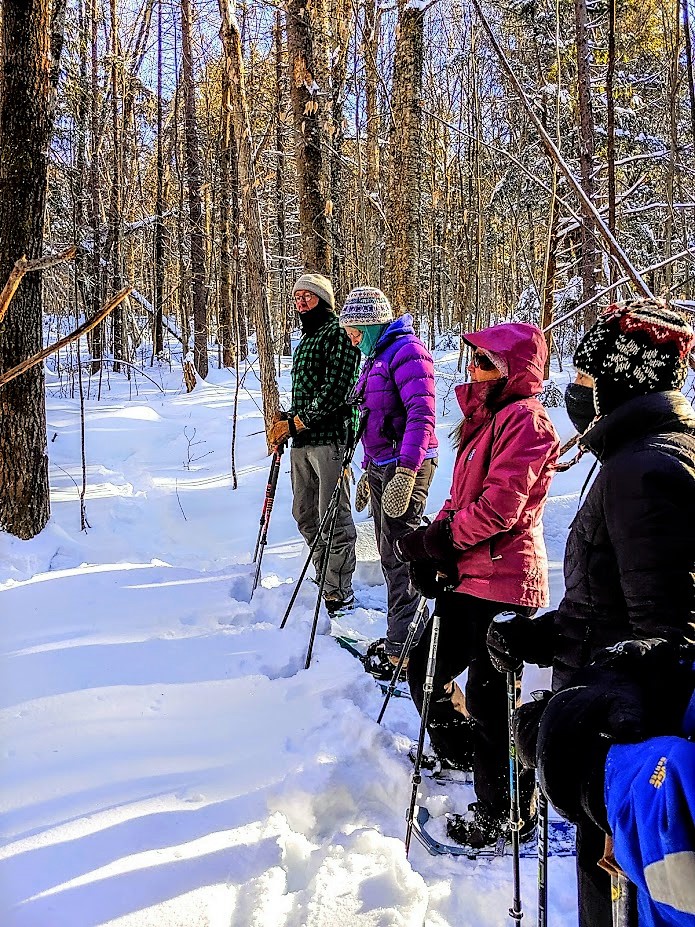 Single digits? Not a problem! 15 inches of fresh snow? That's okay! Despite the challenging conditions, 34 people from our little community appeared on the afternoon of Saturday, February 5th, to track wildlife with Cold Hollow to Canada behind the Belvidere Central School. While attendance by the resident wildlife being tracked was a bit less impressive, the overwhelming interest in this program sent a loud, clear message: Our community is ready to see the return of outdoor programming!
The truth is that on a different day, we suspect even more people would have come. As it was, we felt we needed to increase our capacity by inviting in extra trackers who could help with the event, and even with this extra boost, we capped registration. If we hadn't had a cap, we're not quite sure how many people would have come!
Because of our capacity boost, those present got to meet not only CHC's new Community Science Coordinator Sophie Mazowita but also some guest wildlife experts. Jonathan Shapiro runs the Fox Paw School in Hardwick, and we felt very lucky that Hillary Lisowski–who runs Black Feather Nature Guiding out of state–also happened to be visiting. We were therefore able to divide the large group into three smaller, more intimate sections for the adventure.
Wish you could have joined us? Interested in ongoing wildlife tracking activities? CHC is actually looking for community wildlife monitoring volunteers who could check a trail camera every 3-4 months as part of a regional moose population study. Those interested are invited to fill out this volunteer interest form or contact sophie@ coldhollowtocanada.org.
We also encourage everyone to go to iNaturalist to view wildlife sightings from our area and to contribute your own! These can include animal sightings, tracks and sign, and trail camera photos. For any mystery tracks or trails: take lots of photos from straight overhead, of individual tracks and the pattern of multiple tracks. Include a ruler or scale item, like a coin. This can help others to identify your sighting for you, as the iNaturalist platform is a fantastic way to crowd-source your natural history mysteries!
To learn more about wildlife tracking in general, Sophie has put together a terrific list of recommended books and resources. In addition to Sophie's role at CHC, she also has her own business, called Tracking Connection, so please be aware that this link is to her business website, not a CHC page.
---
Future Opportunities In Our Region
Winter Tree ID Walk
CHC Partner Event
You can catch CHC board member and Franklin County Forester Nancy Patch–along with Lamoille County Forester Emily Potter–on Saturday, February 26, to brush up on your Winter Tree Identification. The event will be at the Belvidere Pavilion, at 10:00am, and you can park at the Belvidere Central School. Registration is required, and I hear there are still some spaces left! If you'd like to attend, please contact nancy.patch@vermont.gov. The event is sponsored by Women Owning Woodlands VT, and you can learn more about them here.
Heating with Wood and Building a Better Fire
CHC Virtual Event
Do you heat with wood? Are you thinking about replacing your current heating system? Are you ready to get off fossil fuels? Are you also interested in maintaining air quality and forest health?
In this virtual conversation, Cold Hollow to Canada invites in two Vermont wood heat experts for a discussion of wood energy. First, Emma Hanson, Wood Energy Coordinator with Vermont Department of Forests, Parks, and Recreation, will discuss how wood heat fits into the state's renewable energy goals. She'll cover different wood fuel types and their applications, carbon emissions, and cost, including a new Automated Wood Heat program that allows wood heat to be hooked up to a thermostat. Then we'll hear from Gail Stevenson of BurnRight Vermont, who will lead us through some simple steps for building a cleaner fire in our wood stoves. We'll leave some time for questions and discussion, too!
Date: Monday, March 7, from 7:00-8:00pm
Please register here, see the event on our website, or contact monica@coldhollowtocanada.org with questions.
Bird Walk with Bird Diva Bridget Butler
CHC Community Event
While we haven't yet arranged the details, please mark your calendars for a birding event on May 22, 2022! If you're not already familiar with Bridget, check out her website–and prepare yourself for a treat!