Main content
Mansfield's First Snow: A Story of Connection
Posted Monday, March 6, 2023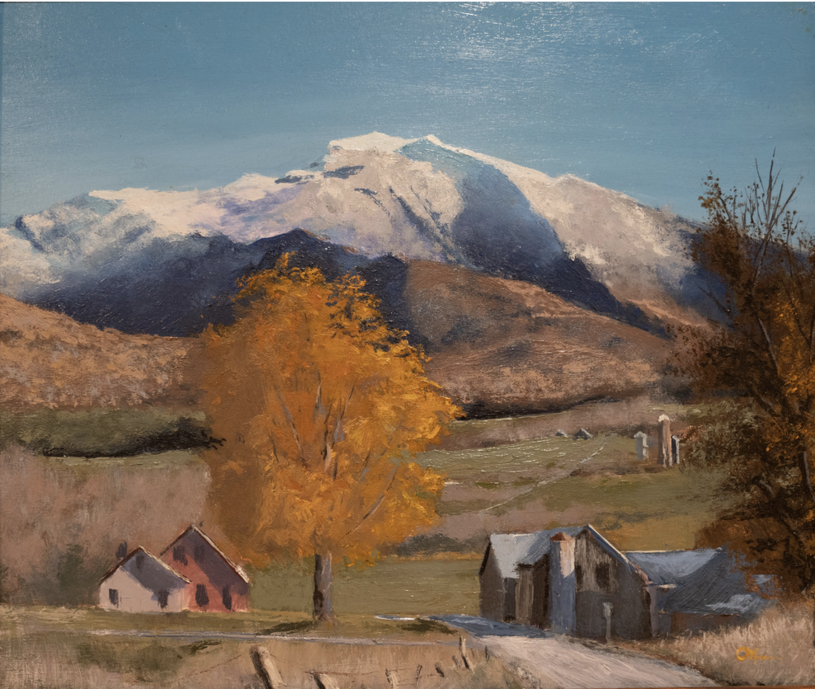 Mansfield's First Snow: A Story of Connection
Steve had a room with one of the best views at UVM Medical Center, looking out over the university green, across the waters of Lake Champlain, to the blue layers of the Adirondacks. But when I walked into Steve's hospital room I found him ignoring the views, instead locked in on trail camera footage on his cell phone. At just past 7 AM he was eager to share with somebody, anybody, what had walked in front of his trail cam earlier that morning. I was his nurse for the day, his audience by default. The 2021 rifle season was upon us, and Steve was not where he was supposed to be.
Steve didn't know that deep down I longed to hunt also. But despite years of interest, I had not yet found a gun to fit my small frame, built up strength for a steady shot, or figured out where to find women's hunting clothes not embellished in pink. It felt like an overwhelming process. So instead I went to work that Saturday morning, while my partner went to deer camp with the boys. I'd experience hunting season yet again through their stories, and that morning, through Steve's.
I leaned over the side rail of Steve's hospital bed to look closer at his cell phone screen. It showed a lush clearing in the foreground with woods full of structure in the background - no snow yet for tracking. It was a classic spot to place a camera, just the type of edge habitat I also place my trail camera along.
Under the hospital's fluorescent lights, amidst tubes and machines, in a tall building miles away from our rural homes, we escaped to the hardwoods, feasting our eyes on that natural scene. A strong brown body appeared, his neck thick, his muscles defined, an impressive set of antlers sitting atop his head. The buck stood still for a moment, and out of the corner of my eye I saw Steve's face, full of both awe and elation. It was just the look I see on my partner's face when we spot our own wildlife neighbors. It doesn't matter if we spot them in the flesh or on trail cams - whether it's a buck, bear, or otherwise - we feel a thrill just the same.
Steve didn't have to say much to relay his excitement. I knew where he wanted to be, and I knew the cards were stacked against him. But we didn't talk about that. We talked woods and wildlife and forest products. Steve's work had been in the maple and lumber industries. He resided in Waterville. When he learned where I live he brought up another type of image on his phone, a painting of the very landscape my home lies within.
Steve was not only an avid outdoorsman. He was also a talented oil painter. I had actually seen this very painting at the Bryan Gallery in Jeffersonville. It turns out he and my mom had paintings there at the very same time. Steve's painting, entitled "Manfield's first snow," depicts a maple tree in full foliage in the foreground, several farms along a dirt road, and a snow capped Mount Mansfield rising above. An untrained eye might miss the accuracy in detail making up the foothills and ridges lying below the tall peak. But for me they jumped out, defining landmarks in my mental map of the extended backyard. I looked closer, locating the features that my home is nestled between. Unsurprisingly, I was drawn to this painting immediately.
A few months went by. At the time I was working as a school nurse, thus seldomly picking up hospital shifts. As a Resource nurse, or "float" nurse, I work on a dozen hospital units, filling in staffing gaps wherever I'm needed. Between this movement throughout the hospital, and my infrequent shifts, it was rare that I worked with the same patient twice. Yet when I picked up a shift over the February school break, there on my assignment was Steven O'Hearn, once again.
Steve and I quickly recognized each other. Again we talked of the woods, wildlife, and painting. He brought up his painting of "Manfield's first snow" and this time he offered it to me. I hesitated. As a nurse we are instructed not to accept large gifts. This though, felt different. Steve spoke of donating pieces to raise money for good causes over the years. "That's it!" I thought. I'll donate the piece to Cold Hollow to Canada, to raise money for conservation, to protect our shared values of woods and wildlife.
But… I realized… the painting could end up in a home where the people didn't know Steve. They might not picture his face when they see it, hold a memory, share a bond. So I accepted the painting, telling Steve I would make a donation to Cold Hollow to Canada for the price he'd listed it for at the gallery. His kind wife Robyn brought the painting in for me to take home. I see it everyday, and I think of them.
Something in me said to wait until Giving Tuesday to make my donation. November 2022 rolled around and others at CHC came up with the idea to raise money for trail cameras. How fitting. I could not think of a better way to honor Steve than to donate money to fund just the thing that brought us together in the first place. I made my donation, and out of curiosity, decided to google Steve's name. I hadn't seen him since winter. The search brought up his obituary. I actually felt my heart sink in my chest. It's not a new feeling. It doesn't get easier.
I finally got myself out hunting this year. I put in many days among the hills and ridges depicted in Steve's painting. I saw nine deer in those woods overall, none of them bucks. I didn't come home with any meat. It didn't matter. Every time I saw a deer I was overcome with awe and elation, the very emotions I saw in Steve's face on the morning we met.
Thank you to everyone who donated to CHC's Giving Tuesday fundraising campaign. We raised $1500 which will fund new trail cameras and education for volunteer trackers. My hope is that the imagery captured will lead to awe and elation in others, furthering connection, awareness, and a desire to protect the forests of Vermont. As we like to say at Cold Hollow to Canada "You only see what you know, love what you see, and protect what you love."