Main content
Birders and Landowners Pair Up Through Birder Broker for Another Successful Season
Posted Wednesday, November 23, 2022
— Connections
The summer of 2022 marked another successful year for Birder Broker, a collaborative project run by Bird Diva Consulting and the Vermont Center for Ecostudies. If you haven't heard of Birder Broker before, the program essentially functions as a matchmaking service, pairing curious landowners with experienced birders across Vermont to conduct surveys of breeding bird activity in private forested lands. Through this partnership, landowners get to learn about the birds on their land firsthand from one of Vermont's many experienced birders, and birders get to explore new and exciting forest plots alongside the people who love and maintain them.
This past June and July, birders and landowners across the state mobilized to survey 18 different properties, including five properties in the Cold Hollow to Canada region. Together, birders and their landowner partners compiled 50 Vermont eBird checklists of the birds they found on Birder Broker surveys, tallying a grand total of 96 species. Among those 96 bird species were two species never-before-seen/heard on Birder Broker surveys, the Carolina Wren and the Lincoln's Sparrow! The latter was reported by Jacob Crawford during all three of his Birder Broker surveys this season at a property in Wolcott, VT. Jacob, a recent UVM grad and very skilled birder, was one of several of our birder and landowner volunteers to chat with a reporter from the National Audubon Society, and we couldn't be more excited about the resulting article highlighting this project. The piece, titled "It's a Match" can be found in the Fall 2022 issue of Audubon Magazine or online, and offers a window into the many ways in which birders and landowners both benefit from their partnerships.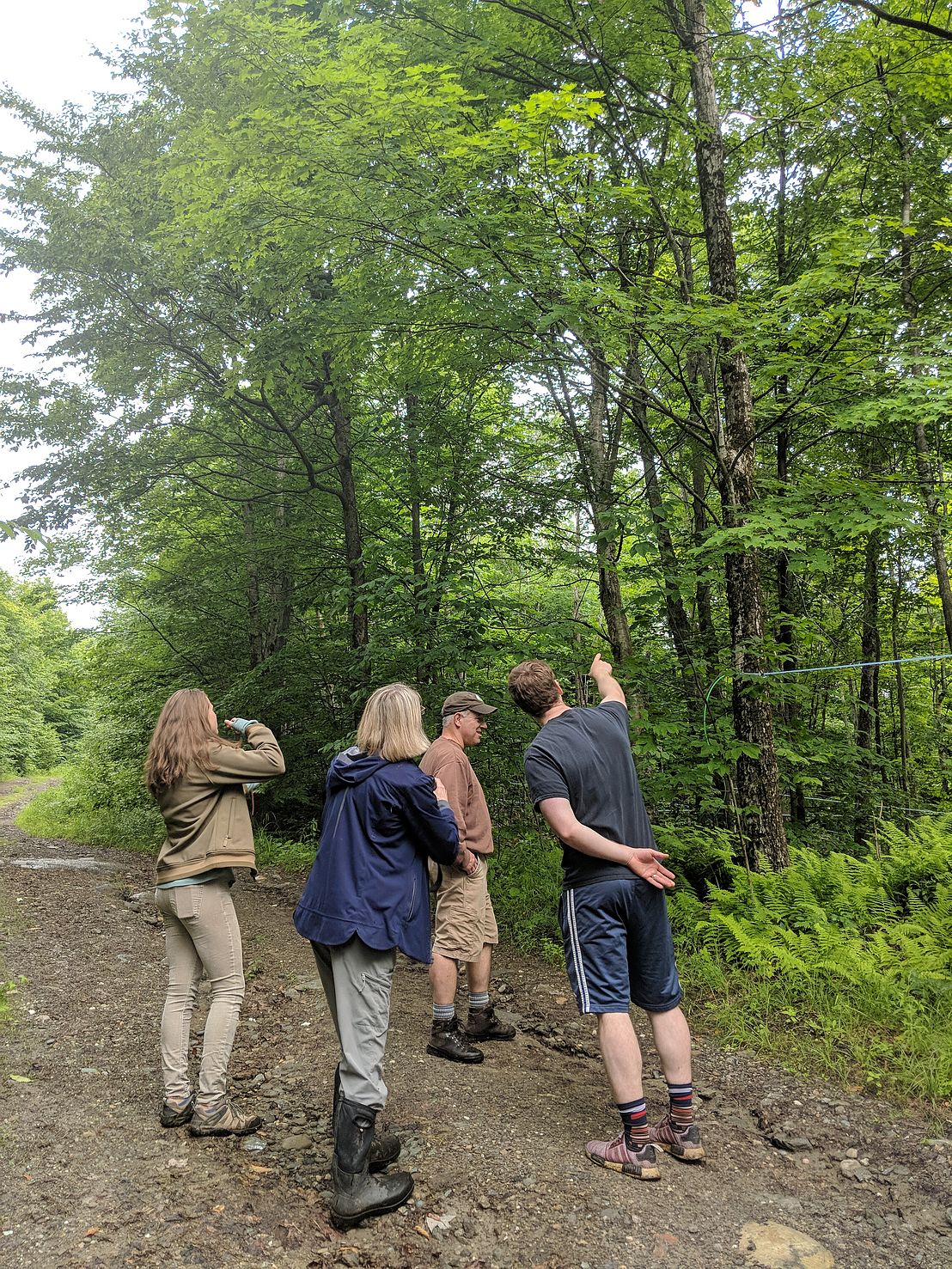 I have been lucky enough to be paired with the Paggi family, owners of Barred Woods Maple, and surveying their forest plot in Belvidere has resulted in so many rewarding bird encounters for all involved. From Scarlet Tanagers belting their song from an exposed perch, to Mourning Warblers scurrying through the underbrush with a mouthful of food for young ones, to a chattering family of Ruffed Grouse navigating their way along the forest floor, it is clear that the Paggi's forest supports an array of birdlife. While I learned a great deal about sustainable forest management and selective patch cuts on one of our walks, we all learned which birds benefited from the trees left behind, such as the Winter Wren perched on a fallen log or the Black-throated Blue Warbler singing from atop a Black Cherry leaning into a newly opened sunny patch. Across our three Birder Broker surveys this season we began to get a feel for individual bird's territories and potential nesting sites, and on our final walk of the season we were delighted to encounter roving family groups of Red-eyed Vireos, Song Sparrows, Black-capped Chickadees, and a juvenile Mourning Warbler. Going beyond the study of bird identification and delving into bird behavior during such an exciting time of year as the nesting season provides endless enjoyment as well as valuable data which allows researchers to keep track of Vermont's forest bird populations.
One of the cornerstones of Birder Broker is the project's focus on breeding bird behavior. Knowing whether a bird is present or absent in a forest is an important first step, but critical to the long-term success of Vermont's forest birds is knowing where they settle down and raise their young. Evidence of breeding can be as obvious as a Hermit Thrush on a nest or as subtle as a particularly territorial Common Yellowthroat chattering from a raspberry thicket. Birder volunteers, using the eBird mobile app, have kept track of this important information on bird behavior by using "Breeding Codes," a standardized system for noting whether a bird is a possible, probable, or confirmed breeder. This year, 69 different species have been coded as either confirmed (34) or probable (35) breeders. This level of data richness has the potential to be valuable for both individual landowners and larger scale conservation projects as we look to care for and manage land in a way that's beneficial to songbirds. Our amazing volunteers have continued to showcase their ever-improving skills of observation and data collection, with nearly 80% of all bird observations in 2022 including a breeding code, up from ~60% in our pilot year of 2019.
What does next year hold for Birder Broker? As always we look forward to welcoming new volunteers to the project, and with a network of excited landowners 'waiting in the wings' we're hoping to expand our network of birders to cover properties across the state. With our fingers and toes crossed for the support of continued grant funding, we hope to provide more resources and workshops for our birder and landowner volunteers on everything from eBird tips and tricks to bird-friendly forest management. With a big thank you to our wonderful volunteers, we're so thrilled with how this project has grown and we can't wait to get back out in the woods looking and listening for birds come next summer.