Main content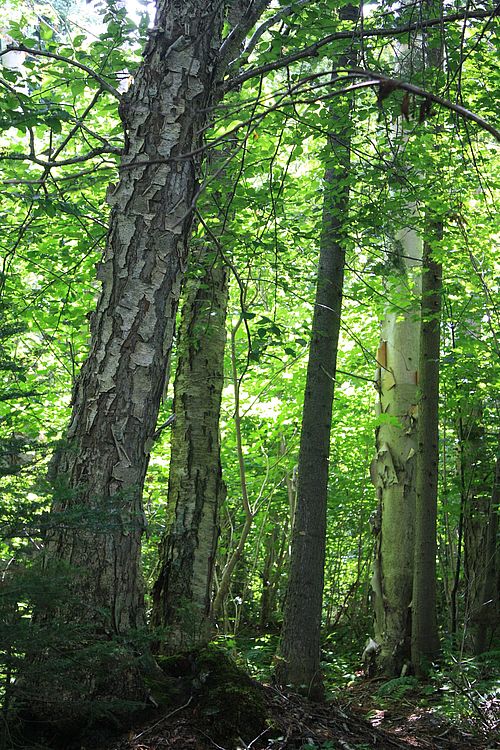 Our vision is a healthy and intact forested landscape that supports a strong and sustainable local economy through stewardship, with protection of core wildlife habitat and connectivity across the entire Northern Forest.
We can achieve this vision when there is:
Ongoing stewardship of our regions forests built on a foundation of biological diversity and ecosystem resilience.
Permanent protection of the largest un-fragmented blocks of contiguous forest in our region.
Caring economic use of our forests to sustain their productivity into the future.
Connected forests through our region that allow for the movement of wildlife.
Communities' appreciation of and commitment to preserving the region's rich forest heritage that defines our home.
Our forests define our cultural heritage in Vermont and act as an economic engine, contributing to an estimated $3.4 billion annually added to the Vermont economy in both forest-based manufacturing and forest-related recreation and tourism. They provide critical habitat for wide-ranging mammals, and the greatest diversity of breeding bird species in the United States. Our forests sit at a crucial nexus for wildlife traveling across the Northern Forest, forming a priority linkage within the largest intact temperate forest left in the world.
We Are Losing Forests Now
But Vermont is now losing forest cover for the first time since the mid-1800s. With increased fragmentation we lose the important contributions that working forests make to our economy, our ecology, and our culture. The stage is set for an increase in forestland conservation as a vital part of maintaining Vermont's working landscape and the health of our forests at a scale to sustain functionality in the future.
Conservation by the Numbers
Our region spans nearly 170,000 acres along the northern spine of the Green Mountains.
Priority Forest Blocks, forming critical habitat and the connections between, account for approximately 117,000 acres, or 70% of the seven town area.
Currently 20% of the identified Priority Forest Blocks are conserved, or about 23,500 acres.
Our goal is the permanent protection of 40% of the identified unfragmented Priority Forest Blocks in our region by 2030.
To achieve our goal by 2030, an additional 23,500 acres will need to be conserved for a total of 47,000 acres.