Main content

The Richford Woodlots Group
The Richford Woodlots group has been meeting since 2017, when a grant from the US Forest Service helped us to launch this new program. To date, participation has included the owners of 13 parcels representing over 2,000 acres.
Like all of our groups, the diversity of interests and stewardship styles respresented by Woodlots participants allows each landowner to see the goals and practices implemented by others within the community. Sugar producers meet pollinator enthusiasts who meet nordic ski trail blazers. Landowners learn as much (if not more!) from one another as they do from the focus topics presented at gatherings. We therefore keep the walks casual, leaving plenty of time for participants to connect with one another. These casual gatherings are then supplemented with speakers and programs, which have included:
Reading the Forested Landscape, with forester Charlie Hancock
Forest Stewardship and Natural Resources Conservation Service (NRCS) Programs, with Carissa Stein, of NRCS
Pollinators, Reptiles, and Amphibians, with County Forester Nancy Patch
Forest Songbird Habitat, with Steve Hagenbuch of Audubon Vermont
Youth Conducting Forestry, with Jas Smith of Vermont Youth Conservation Corps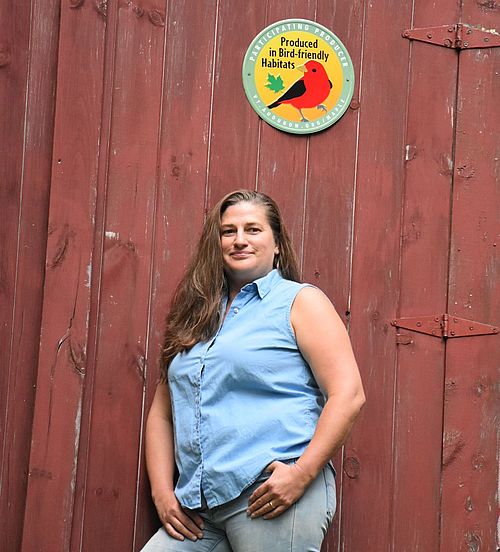 Landowner Spotlight: Jessica Boone
Jessica is the owner of Hi-Vue Maples, a 400+ acre maple farm that has been in her family for over 100 years. Jessica joined the Woodlots program because conservation is important to her, and she says the program "gives me a deeper appreciation for the important role our unique ecosystem provides on a bigger scale." She adds "The meetings are interesting. I always walk away learning something... and my woodlots group has some really good cooks!"
Since joining Woodlots, Jessica has participated in many opportunities offered by CHC. Through CHC's partnership with the Natural Resources Conservation Service, Jessica received funding that allowed her to develop early successional habitat and plant trees as well as repair eroded woods roads. "This was huge," she says. "The work was done before the October 2019 storm that would have devastated the road system in my sugar bush." Jessica also participates in the Birder Broker program to connect with a local birder, and she is part of the Forest Carbon Aggregation Program, which allows her to receive financial benefits from her carbon-conscious forest management. Jessica has also worked with Audubon Vermont's Bird Friendly Maple Project, qualifying Hi-Vue Maples as a Bird Friendly Maple Producer. Finally, Jessica is in the process of conserving her land, with help from CHC's Conservation Fund.