Main content
Citizen Science: WildPaths

The wildlife in our region serves as a natural indicator for the health of our forests. It's important to understand our resident wildlife populations, where they live, how they use different forest habitats, and how they travel across the landscape. CHC oversees two citizen science projects: Keeping Track and WildPaths.
WildPaths is a volunteer citizen science project based on the work by the Salisbury Conservation Commission in Vermont and Maine Audubon's Road Watch project. WildPaths engages community members to monitor road crossings in their neighborhood, through tracks, roadkill and live sightings. The goal of the project is to use the data to better direct our local efforts with future development so that we can maintain crucial connections between core wildlife habitats.
Our focus area is the Northern Green Mountains, which includes the following towns - Richford, Enosburgh, Bakersfield, Montgomery, Waterville, Fletcher & Belvidere. Although we welcome your sightings at any time of year, we will be focusing our efforts on collecting observations from April through September.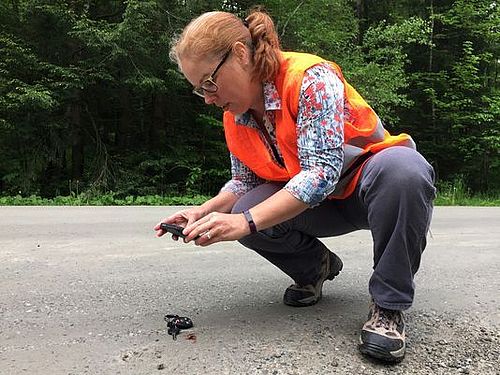 There are two ways you can participate.
Random Roadside Sighting - You may make this type of report when walking or jogging, while in your car or on your bike. This type of submission can happen at anytime on any roadway. Snap a photo, make some mental notes and then upload your sighting using the form link at the bottom or the page. Check out the last paragraph to learn how you can use your smartphone for these types of observations on iNaturalist.
Adopt a Roadway - You may pick a section of road that you travel frequently whether by walking, biking or driving and make monthly reports within season to the WildPaths Project. Read the WildPaths Instructions and then contact us by email to confirm your road segment at wildpaths@ coldhollowtocanada.org.
For the 2018 field season we're encouraging participants to use iNaturalist to report their sightings. This platform allows us to capture specific location data when you upload your digital photos of your observation.
You can use your smartphone and download the iNaturalist app for iPhone or Android. Create an iNaturalist account, join the WildPaths Project, and turn on the geotagging feature on your phone and you'll be set to capture pictures then upload them directly to the project. We recommend folks who are outside of our service area (see town list above) use the iNaturalist website to submit their observations. Need help with this feature? Try using the online and video tutorials for iNaturalist by clicking here.
Of course you can still collect data for the project without a smartphone by downloading the forms below and then uploading your data on our website. It all goes to the same project and we want to make it easy for everyone to participate.
Questions? Just drop us an email at wildpaths@ coldhollowtocanada.org.
Downloads:
Print out copies of the datasheet to stash in your vehicle or carry with you. Then use the online form below to enter your data into our system. Or mail them to us at the address at the very bottom of the page. Thank you!
Photo (top of page) by Steve Faccio